Chiropractic Care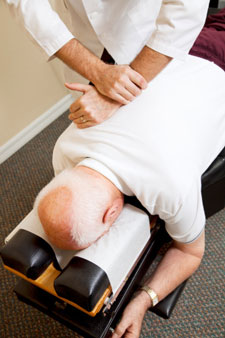 When you experience pain, all you can think about is finding relief. It's important to consider, though, that the problem might be caused by a spinal-related issue. When you don't have proper movement in your spine, it irritates the delicate nerves of your body. If these nerves can't work at their optimal potential, your body won't enjoy its full healing capabilities.
Keeping You Comfortable With Effective Techniques
By using hands or an instrument, Dr. Ready makes corrections to your spine so that it's properly aligned. The techniques we may use include
Activator Methods®
Diversified
Soft tissue work
Thompson
Impulse IQ instrument adjusting
You'll be walked through the adjustment before starting. Dr. Ready will explain what he'll do, demonstrating on a spinal model where we need to make adjustments. If you hear a clicking sound, it's completely normal and is simply the release of gas from the joints.
Individualizing Your Care
We feel that each patient is unique, and therefore, you won't find any cookie-cutter approach to health care at Klein Chiropractic and Wellness. Generally, we find that a higher frequency of visits is appropriate at the start of care to begin making the needed changes. We'll then scale back your appointments as you start to improve.
Contact us today to learn more about what we may be able to offer you! Same-day appointments are available for immediate attention.
---
Chiropractic Care New Westminster | Klein Chiropractic and Wellness